Wat Phra Pathom Chedi : Buddha Images (4)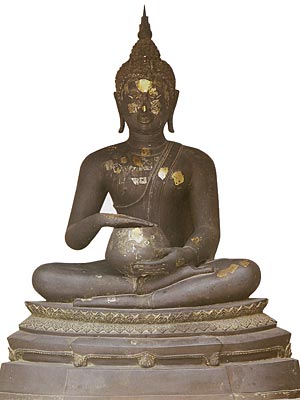 Uniting the four alms bowls (1)
Guardians of the four directions came to offer alms to the Buddha. Not to show favouritism the Buddha unites the four bowls into one.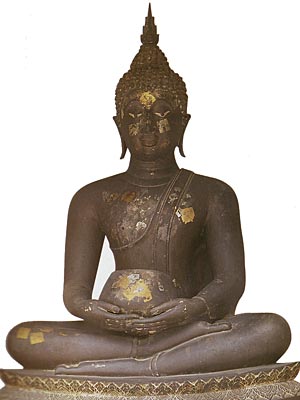 Uniting the four alms bowls (2).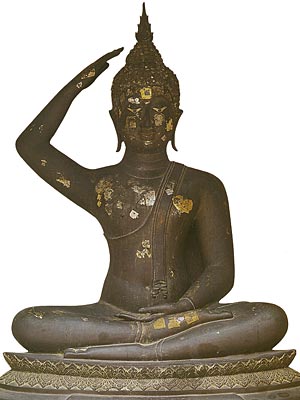 Touching the Hair
The Buddha raises his right arm to clasp eight strands of hair, to give as relics to two merchant brothers, Tapussa and Bhalika, who offered him rice (the Buddha had not eaten for 49 days after his enlightenment). The two merchants were the first lay disciples.

In Reflection (Deeply Thinking)
Hands are crossed across the chest, right hand in front of the left.
The Buddha (at the Banyan tree), wonders how he can explain the cause of all suffering to others.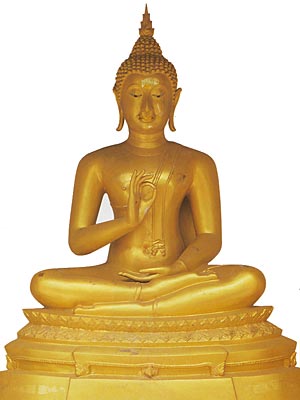 Preaching the First Sermon
The Buddha went to the Deer Park at Isipatana near Benares and preached his first sermon to a group of Five Disciples.
[This gesture is one of the often presented ones]
Go to Page : 1 | 2 | 3 | 4 | 5 | 6 | 7 | 8 | 9 | 10 | 11 | 12 | 13 | 14