Resources regarding Buddha Images in Thailand
A website (in our opinion) always offers a more furtive and incomplete representation. For more information and some interesting reading about Buddha images, we recommend :

Gestures of the Buddha, by K.I. Matics, Third Edition 2004. Published by Chulalongkorn University Press.
[English language book, 250 pages]
ISBN 974-13-2706-4
This book was available at the Chulalongkorn bookshop and we ordered it online. When we last checked however, it did not show up when searching for it. It is available on Amazon, but expensive, and Thailand for some reason was not on the shipping list.
Website with information on Buddha images :
http://lotussculpture.com/mudras.htm - Offers a good overview of the different Buddha mudras.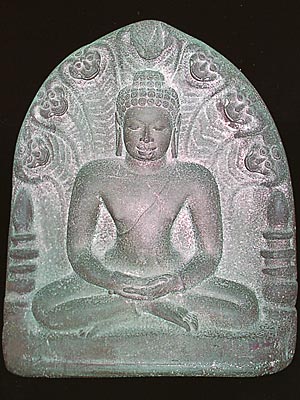 Buddhism in Thailand, Thai Temples, Thai Buddha Amulets
Temples of Thailand - www.chimburi.com
This amazing website offers images of hundred of temples around Thailand. By Udo Radlhammer. Besides the pictures, there are also valuable commentaries about the different wats.(ed.)
http://www.chimburi.com/
Access to Insight. Readings in Theravada Buddhism
Information on Theravada Buddhism in Thailand.
http://www.accesstoinsight.org/index.html
Wat Bowonniwet Vihara
Wat Bowonniwet Vihara is a Royal Buddhist monastery of the Dhammayut tradition, located on the northeast side of Bangkok's Rattanakosin island.
http://www.watbowon.org/
WatPho.com
Wat Pho, one of the absolute marvels of Bangkok.
http://www.watpho.com/index_e.html
If you have any comments, and they are most welcome, you can contact us.

With Buddha-Images.com we try to give an overview of Buddha images in Thailand, with emphasis on the different postures and gestures of the Buddha (and their explanation). Furthermore, we give examples of Buddha images during the different periods of Thai history.

We tried to provide accurate content, by always double checking information, and when in doubt, not presenting it. However, if there are inaccuracies, please let us know.