Wat Pho (Wat Chetuphon), Bangkok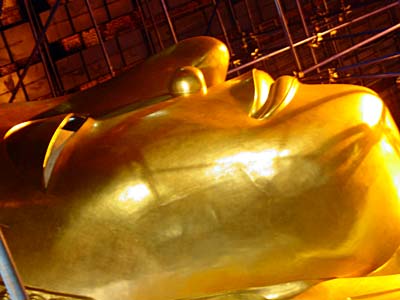 Reclining Buddha at Wat Pho (Wat Chetuphon).
Wat Pho (also known as Wat Chetuphon) lies within walking distance south of the Royal Grand Palace. While neglected by some tour groups, it should be on your itinerary when visiting Bangkok's attraction as basically the temple is second to none.
The oldest structures date to the Ayutthaya period. During the Thonburi period (1767-1792) Wat Pho was granted the royal monastery status. The temple has been restored many times during the past 2 centuries.
Wat Pho is well known for its Reclining Buddha. The Vihara of the Reclining Buddha was built during the reign of Rama III. The gilded Reclining Buddha is 46 meters long and 15 meters high. Remarkable are also the feet of the Buddha statue, featuring mother-of-pearl inlay drawings of the 108 auspicious characteristics of the Buddha.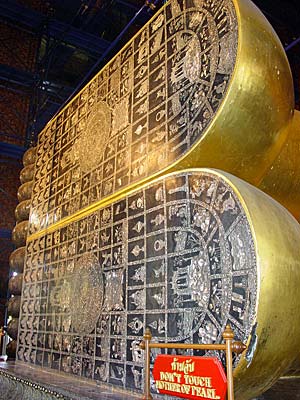 Mother of Pearl at the feet of the Reclining Buddha, showing the 108 auspicious characteristics of the Buddha.
A most imposing building when exiting the vihara (wihan) of the Reclining Buddha is the Phra Mondop (The Scripture Hall). It is topped with a crown-like spire and decorated with colourful porcelain. The Scripture Hall keeps a small library on the Tripitaka or teachings of the Buddha.
Wat Pho contains close to a hundred chedi (pagodas). They have different styles and dimensions. Besided Thai style, some chedis are in Cambodian style, some in Chinese style.
The most famous and most prominent of the chedis at Wat Pho, are those dedicated to the four first Kings of the Chakri dynasty. Each of the four Phra Maha Chedi is about 41 metres high. They are in different colors (green, white, yellow, blue respectively for the Phra Maha Chedi dedicated to the Kings Rama I, II, III and IV).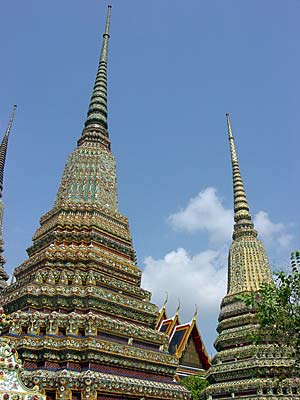 The four Phra Maha Chedi at Wat Pho (two shown here) are dedicated to the first four Kings of the Chakri dynasty.
The Phra Ubosot at Wat Pho contains the main Buddha statue, called Phra Tang Pha Thip. It is in meditation posture in Ayutthaya style. The murals on the wall of Phra Ubosot feature all levels of heaven. The eight pearl-inlaid doors feature the Ramayana epic. The chapel boundary wall is decorated with bas-reliefs from the Ramayana. When walking around Bangkok, you will see often images on transparent paper for sale. These were originally copied (not anymore) from the outer wall of the chapel.
Wat Pho has long been involved in health. Different statues of hermits in exercise postures can be seen. At present Wat Pho is still a center for traditional Thai massage, which can be experienced in situ. The many inscriptions at Wat Pho indicate that the temple was a major institute of education and is considered the first 'open university' in Thailand.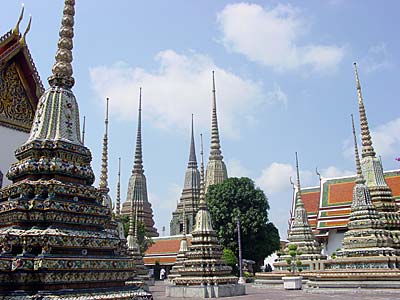 Wat Pho features many Chedis. One could speak of a 'chedi gallore'.
Wat Pho is a definite must on your visit to Bangkok. It is easily reached by foot from the Royal Palace. It is worthwhile to come as early as possible. Then you will have an good hour of visit the compound at leisure, before the tour buses arrive. [During Covid, entry was forbidden for foreigners, unfortunately. So check if this ruling has changed or not]