Characteristics of Buddha Images - The four main Postures
Buddha images were not made during the first few centuries after the life of Lord Buddha. They first appeared during the 1st and 2nd century A.D. in India. Almost immediately, a set of rules developed on how the Buddha should be depicted. It is worth remembering that a Buddha image is considered to be a hypostatis, endowed with supernatural powers and therefore has to be properly rendered. The Buddha is believed to have 32 major characteristics (and more minor ones).
Examples (that can be seen on Buddha sculptures) :
The Buddha is flat footed
Long en slender fingers and toes (often with the four fingers of both hands and the five toes of each foot of the same lenght). Sometimes webbed toes and fingers.
Between the eyebrows, a tuft of hair
Head with a protuberance on top of the skull (unhisa)
No furrow between the shoulders
Although not strictly listed at a major characteristic, Buddha images also have distended ear-lobes (from wearing heavy rings in early life)
Hands in standing position often at knee level
Etc.
The Buddha is always in one of four postures deemed suitable : Sitting, Standing, Walking or Reclining Postures. The dress of the Buddha is the monastic robe, draped over both shoulders, or with the right shoulder bare.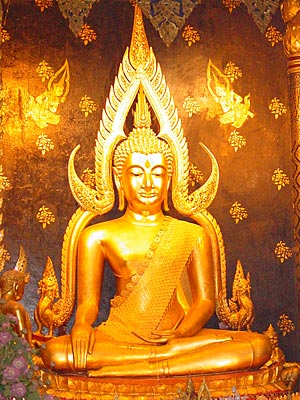 Sitting Buddha Image :
Phra Phuttha Chinnarat at Wat Phra Sri Rattana Mahathat in Phitsanulok.
This Buddha image is generally regarded to be the 'second most' important Buddha image in Thailand.
[The Emerald Buddha at Wat Phrakaew in Bangkok is probably the most important]
A replica of Phra Phuttha Chinnarat is present as the main Buddha image at Wat Benchamabophit in Bangkok.
More : the Different Sitting Positions.

Standing Buddha image
with the Gesture of Calming the Ocean.
Ayutthaya Style. The Buddha is in Royal Attire. (16-17th Century A.D.)
National Museum Prachinburi.

Walking Buddha,
with the gesture of Imparting Fearlessness.
The 'walking' Buddha is an innovation in presenting the Buddha, originating during the Sukhothai era.
From Wat Ratchathani, Sukhothai province.
Presently in the cloister at Wat Benchamabophit, Bangkok.